Discovery week-End of black Truffles from december 2023 to March 2024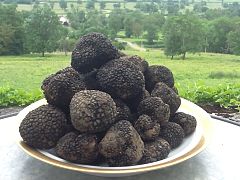 Discover the truffles weekend at the Clos de la Tuilière in Grignan in Drôme Provençal and book your stay in the south of France right no

From November to March, go in search of truffle secrets in the Drôme Provençal! We will accompany you in your initiation to digging, cooking and tasting this mushroom with exceptional taste and visit the famous Richerenches market on Saturday morning to discover the secret of Rabassiers, you will discover that the secrets of sale of truffles are well guarded!
Back home to enjoy a truffle omelet prepared with delicacy for lunch. In the afternoon, discover the technique of digging truffles in a trufficole area just minutes from the guest house. To finish this day of discovery of the regional products, you will have an appointment at the Domaine de Montine for a tasting of the wines of the region.
Back at the Clos de la Tuilière, you will discover in the kitchen the recipes of the dinner on Saturday night with dishes from local recipes around the truffle. You will learn to cook the truffle before introducing you to its tasting which will be embellished, as it should, wines Grignan the Adhémar & Rhone coast carefully selected.
€650.00 for 2 people, including 2 nights, breakfasts, 3 aperitifs, 3 truffle meals, visit to a Truffle grower and a winegrower, price including VAT excluding drinks